Traditional Tamari soy sauce factory with a history of more than 70 years
Yamakawa Jozo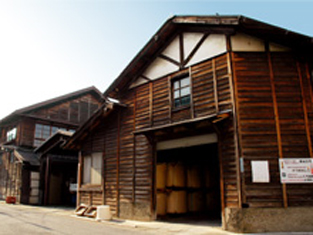 The factory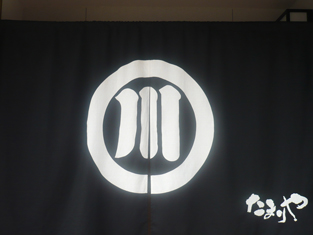 Shop curtain with company logo
Features
Established in 1943, Yamakawa Jozo is a producer of natural miso and soy sauce located by the clear Nagara River. Using traditional methods, old-fashioned cedar barrels and the underflow water of the river, we produce various products such as Tamari soy sauce. Eighty percent of our sales come from professional-use products. Consumed in more than 1000 eating establishments, our products preserve the traditional taste and flavor that has been favored by many professional cooks.
Recommended Products and Services
"Minobi" traditional Mino Tamari (500ml: 780yen, 300ml: 567yen, 100ml: 450yen)
This type of soy sauce is made from carefully-selected soybeans, wheat, and salt through more than 2 years of fermentation processes in cedar barrels. This is an unheated product so its rich flavor remains strong.

"Sikkoku" Tamari soup stock (500ml: 1,110yen, 300ml: 690yen, 100ml: 610yen)
This "soy sauce soup stock" is made based on "Minobi" with the extract of dried bonito, shiitake mushrooms, and dried kelp. This is usually diluted and used as noodle sauce and for various foods such as vegetable-based dishes called Nimono.

Soy sauce-flavored honey butter (735yen)
Soy sauce for bread mixed with domestically-produced butter and honey.

Soy sauce for ice cream (120ml: 1,110yen, 70ml: 400yen)
Pouring a small amount over ice cream gives it a caramel flavor whereas applying a large amount creates a flavor of Mitarashi-dango (rice dumpling with a sweet soy glaze). It is gradually becoming popular abroad as well.
You can experience…
Join us for an exciting and informative tour of our factory. (Appointment required with at least one week's notice.)
Please inform us of your name, phone number, and desired date and time either by phone or email.
E-mail:
| | |
| --- | --- |
| Name | Yamakawa Jozo Co., Ltd. |
| Address | 1-9 Nagara Aoi-cho,Gifu-shi |
| Business hours | 8:00a.m.~6:00p.m. |
| Website | www.tamariya.com/ |
| Credit card | No card accepted |
| Telephone | (+81)58-231-0951 |
| Holidays | Sundays, National Holidays, Second/Fourth Saturdays |
| Parking | For 4 cars |