One of Japan's 3 major statues of the Great Buddha
Gifu Shoho-ji Daibutsu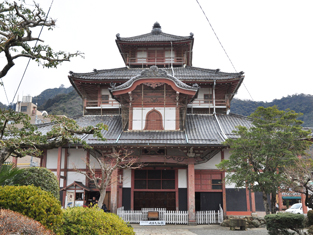 The temple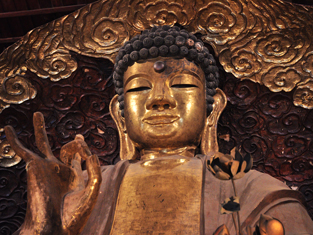 Gifu Daibutsu (Great Buddha)
Features
Kinpou-zan Shoho-ji (Shoho temple on Mt. Kinpou) is a branch temple of Obaku-san Manpuku-ji (Manpuku temple on Mt. Obaku: the head temple for Japan's Obaku Zen sect). This temple enshrines the largest dry lacquer statue of Buddha in Japan. It is designated as an important cultural asset of Gifu Prefecture.

Regarding its structure, Gifu Daibutsu (Great Buddha) has an internal central pillar made from large ginkgo tree (1.8 meter in circumference) with its main frame made of wood. It is also dubbed as the "Basket Buddha" because its outer frame is weaved out of bamboo.

The Statue's body surface consists of hardened clay covered with pieces of paper from various Buddhist sutra books. The layers of lacquer are applied over the paper and the surface is finished with gilt.

Enshrined within the Great Buddha is a statue of Yakushi Nyorai (Buddha of Healing). This statue is also designated as an important cultural asset of Gifu Prefecture.
History
A myriad of Buddhist sutra books were required to completely cover the Buddha's surface. Therefore, Ichu, the temple's 11th generation priest, traveled around the country for the purpose of collecting Buddhist sutras as well as contributions. He even walked all the way to the Shinetsu Area (the northeastern region of Gifu). The Great Statue of Buddha (Gifu Great Buddha) was completed in 1832, 38 years after the priest decided to construct the statue.
| Specifications of Giant Buddha | Nara | Kamakura | Gifu |
| --- | --- | --- | --- |
| Height(m) | 14.98 | 11.35 | 13.63 |
| Length of Ears(m) | 2.54 | 1.90 | 2.12 |
| Width of Eyes(m) | 1.02 | 1.00 | 0.66 |
Admission Fee
200 yen for adults (including high school students), 100 yen for children
| | |
| --- | --- |
| Name | Shoho-ji Temple |
| Address | 8 Daibutsu-cho,Gifu-city |
| Business hours | 9:00 a.m.~5:00 p.m. |
| Website | http://gifu-daibutsu.com |
| Credit card | Not accepted |
| Telephone | (+81)58-264-2760 |
| Holidays | Open 7 days a week |
| Parking | For 10 cars |