Everyday-use pottery shop established in 2003 by the Master Potter Shinji Majita
Nagara Tobo Ceramics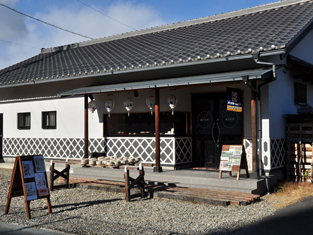 The shop front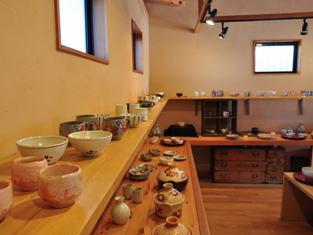 Gallery
Features
Nagara Tobo Ceramics was established in 2003 by the Master Potter, Shinji Majita. Specializing in the Mino-yaki style pottery, he has inherited and maintains its traditional techniques such as Shino and Oribe. The Master creates products ranging from ceramics for daily use (including bowls and cups) to traditional tea utensils and flower vases.
Concepts
The Master believes that eating and drinking is the greatest joy and the most essential elements in life. Food becomes more appealing when displayed on beautiful dishware. Bowls and cups come into direct contact with the mouth. Therefore, the Master intends to produce various ceramic ware with which people can feel comfortable in their daily life. He hopes his products will stay out of the cupboard and be constantly used in the kitchen.
Profile of the Master Potter
Shinji Majita is native to the Nagara area in Gifu City. Born in 1975, his career as a potter started in 1994 when he joined the Suigetsu (Water and Moon) Kiln established by the late Toyozo Arakawa, a human national treasure with the production techniques of the Shino and Seto-Guro pottery. The kiln is located in Mt. Kokei in Tajimi City, Gifu Prefecture and he underwent his apprenticeship there for 8 years under the guidance of Toyozo's sons, Tatsu Arakawa and the late Takeo Arakawa. In 2003, he opened his own kiln, Nagara Tobo, his current production base, in the Nagara area.
Products and Services
Teacups
1,700 yen
Rice bowls
1,700 yen
Large sake cups
(with a wooden box)
3,500 yen

Macha

(powdered green tea) bowls
(with a wooden box)
35,000 yen
| | |
| --- | --- |
| Name | Nagara Tobo Ceramics |
| Address | 11-3 Ukaiya Nagara,Gifu-City |
| Business hours | 10:00a.m.~6:00p.m. |
| Website | http://www.ccn2.aitai.ne.jp/~nagatobo/ |
| Credit card | Accepted |
| Telephone | (+81)58-232-5587 |
| Holidays | Not fixed |
| Parking | For 4 vehicles |