Traditional Japanese entertainment and performance art
Hosen Giren (Ozashiki Manpou)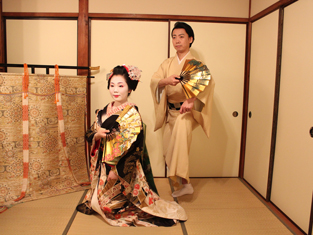 "Kikuji" and "Kikuhina"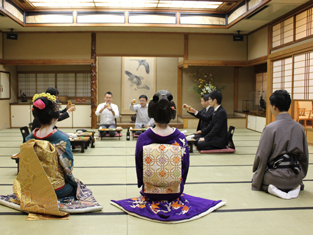 Ozashiki asobi
Features
Located in Gifu City, Hosen Giren is an agency for Geiko (professional female entertainer), Maiko (apprentice geiko ) and Houkan (professional male entertainer). Currently registered are Houkan "Kikuji" and Maiko "Kikuhina." They visit Ochaya (teahouses) and Ryotei (high-class Japanese restaurants) to perform their arts. These performance sessions are called Ozatsuki. We also arrange for Ochaya-asobi (traditional entertainment for exclusive parties).

Geiko and Maiko originate from Kyoto in the Edo Period (1603-1868). Today, they can be found in other places including Gifu. The history of this profession in Gifu dates back 300 years. We have a special tradition called Funa-asobi (entertainment on a boat) in which participants are entertained by Geiko and/or Maiko before observing cormorant fishing known as Ukai. This tradition began in the Meiji Period (1868-1912) and still continues today.
Services
Ochaya-asobi (traditional entertainment for exclusive parties)
Participants can enjoy an exclusive, traditional-style party at the only Ochaya (teahouse) remaining in Gifu called Ozashiki Manpo. While savoring delicious dishes and drinks, guests can observe Geiko and/or Maiko exhibit their artistic dancing skills. ※ Ozashiki: traditional formal Japanese room

Funa-asobi (entertainment on a boat)
A special entertainment service unique to Gifu. Boarding a special boat on the Nagara River with Geiko and/or Maiko, participants enjoy the entertainers' performance arts as well as playing traditional games together. Afterwards, guests watch Ukai or cormorant fishing. (Available only during the Ukai season.)

Our registered Geiko and/or Maiko can also visit your parties and perform for you there. We dispatch our entertainers to restaurants, hotels, and event sites not only in Gifu but across Japan as well.

Entertainment fee: 20,000 yen per entertainer for 2 hours
*Additional fee required for extra time
*Jikata (musicians) fees are charged separately.
We are pleased to coordinate your party and provide an estimate for our service. Please feel free to contact us for further details.
You can experience…
Daytime Experience Program: We can prepare a tea ceremony in which you can enjoy Geiko and/or Maiko dance. Minimum Participants: 4. Reservation required.

Night Experience Program: We can arrange for Ochaya-asobi, Funa-asobi or visit your parties. Reservation required.
| | |
| --- | --- |
| Name | Hosen Giren (Ozashiki Manpou) |
| Address | 19 Higashikogancho,Gifu-shi |
| Website | housen-giren.com |
| Credit card | No card accepted |
| Telephone | (+81)58-265-5587 |
| Parking | None |