Manufacturer of Buddhist altars dedicated to the Traditional Spirit of Craftsmanship since 1855
Fujii Butsudan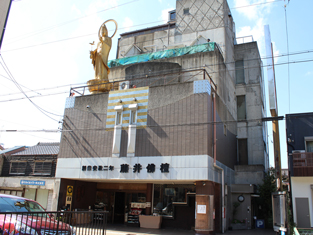 The shop front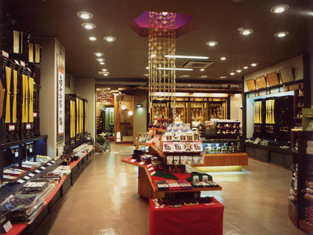 Gallery
Features
Fujii Butsudan specializes in selling and restoring Buddhist altars and their fittings. Catering to various customer needs, we have more than 100 altars available for sale. Types of altars include Kin (gilded)- Butsudan for Shin Buddhism, *Karaki (foreign wood)- Butsudan for Zen Buddhism, compact altars, and modern, furniture-types, etc. We can also custom-make or modify altars upon request. In addition, we deal in a wide range of incense products as well as Buddhist rosaries, home shrine articles, and items necessary for grave visits. We look forward to offering you our carefully selected, high-quality, traditional Buddhist altars. Susumu Fujii, our 6th president and a Buddhist altar craftsman, is always ready to meet and discuss your needs and requests about Buddhist altars. *Karaki-Butsudan is made from precious wood such as ebony wood or red sandalwood.
History
Genpachi Fujii, the founder of the shop, was originally hired by the Ii clan in Hikone in the current Shiga Prefecture as a carpenter for temples and shrines. In 1855, he started producing and peddling Buddhist altars with a carrying pole. He learned at that time that not many people in Gifu had household altars but a lot of Buddhists there belonged to Jodo-shu (Pure Land Buddhism) or Jodo-shinshu (True Pure Land Buddhism or Shin Buddhism) that have a high regard for Buddhist altars. Therefore, Genpachi decided to move into Gifu when he was in his 30s. He was not only a good businessman but also a very proud craftsman and never compromised in producing the highest quality of Buddhist altars. Thanks to his dedication to his craft, he earned a reputable name. One hundred and fifty years later, Susumu Fujii is the 6th generation of this long-established business, committed to passing down their authentic tradition to the generations to come.
Incense
The relationship between Buddhism and incense dates back to pre-Christian India. Various kinds of incense products are available as gifts, and for religious and private use.
Recommended Products
Daihatsu Tanka Ume


(Japanese plum)
1,050 yen

Tanka Murasaki


(purple)
1,050 yen

Nokiba

1,600 yen

Kinkaku

1,600 yen

Gozan

3,150 yen

Horikawa

coil type
2,900 yen
Stick type
3,150 yen

Hourin Genroku

945 yen

Horikawa

1,050 yen

Nijyo

630 yen
| | |
| --- | --- |
| Name | Fujii Butsudan(Buddhist Altar Shop) |
| Address | 89 Suehiro-cho,Gifu-City |
| Business hours | 9:00 a.m.~7:30 p.m. |
| Website | http://fjbutsudan.web.fc2.com |
| Credit card | No card accepted |
| Telephone | (+81)58-263-0322 |
| Holidays | Open 7 days a week |
| Parking | For 5 cars |